Overview

---
General Introduction:
Charcoal briquette machine is also known as charcoal briquetting making machine, charcoal ball press machine, or charcoal pressure ball machine. It processes bamboo, wood, shell, straw (except for rice and wheat straw) and other granular (length ≤ 5mm, diameter ≤ 3mm) waste whose moisture content is less than12% through high temperature, high pressure process, extruded into rod solid with center hole without any binder.
Applied Materials and Applied Fields
Charcoal briquette machine is mainly used for making bamboo charcoal powder, toner, toner, toner, coke hookah carbon, graphite, carbon shell, jujube wood, blue carbon carbon powder, activated carbon powder, powder, waste of materials. It can produce square, ball-egg-shaped, round, egg-shaped, regular round, column, line, bar, bread type, pillow type and other special shapes. And also charcoal briquette machine is widely used in refractories, power plants, metallurgy, chemical industry, energy, transport, heating, barbecue, animal husbandry, industry, agriculture and other fields. This machine is suitable for single assignments and the proliferation of briquette production line, but also can conduct the liquidity operations.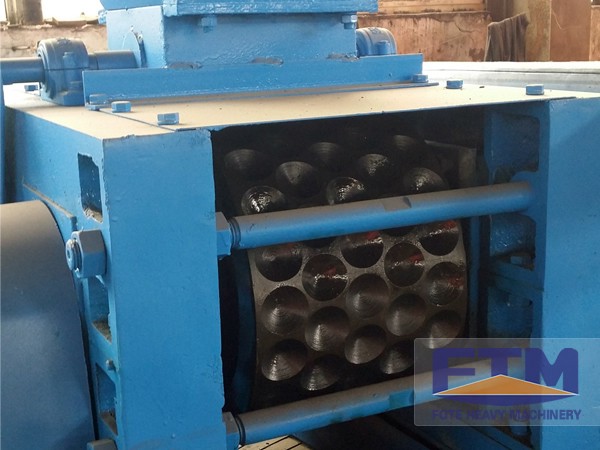 Features

---
1. Reasonable design, guaranteed quality, simple structure, easy operation, compact structure, small footprint, labor-saving, and power-saving.
2. The design of the automatic control of electric heating devices can be randomly adjust material humidity to ensure stable discharge and improve work efficiency.
3. The product main parts adopt wear resistant material with a special treatment, so it can make continuous suppression production, and durable.
4. Suitable for all kinds of biomass raw materials and less energy consumption, high production efficiency.
Parameter

---
Model
Roll diameter
(mm)
Roll width
(mm)
Total pressure
(t)
Main motor power
(kw)
Output
(t/h)
Weight
(t)
GY520-150
520
196
150
55
2.2-3.5
13
GY650-220
650
200
220
110
4-6.5
19.2
GY750-300
750
280
300
185
6-8.5
34
GY1000-350
1000
440
350
250
10-15
50.8
GY1000-450
1000
504
450
280
14-17
58.5
GY1000-500
1000
504
500
315
15-20
58.5
GYS1000-500
1000
600
500
280
17-21
56.5
GY1000-540
1000
900
540
185Kw×2
30-35
60
GY1200-800
1200
900
800
280Kw×2
40
110
GY1400-1000
1400
1000
1000
400Kw×2
50
156
Other Products You May Need

---
SEND INQUIRY

---
Here you can submit any questions and we will get back to you as soon as possible. We will not disclose the information you submit to anyone, please rest assured.