Overview

---
General Introduction:
Briquette machine is also called briquetting press machine, briquetting making machine or pressure ball machine. Briquette machine is with advanced technology and reliable quality. It is suitable for large, medium and small enterprises to establish a certain production scale of production lines. And it is suitable for industrial gas, boiler, cold pressing type focus, briquette,briquette for civilian use, civilian ignition of metallurgy, refractory materials, medicines and other materials. Strong pressure ball machine after years of industrial use and improvement, compared with other similar products, pressure the ball machine high success rate, small power consumption, compact structure, convenience of maintenance.
Applied Materials:
Pressure ball machine can used to suppress various powder, powder material, waste, and residue like coal powder, iron powder, coking coal, Aluminum powder, iron, iron oxide skin, carbon powder, carbon powder, slag, gypsum, tailings, sludge, kaolin, activated carbon, coke breeze and so on. Briquetting press machine is widely applied in resistance material, power plant, metallurgical, chemical, energy, transport, and heating and other industries.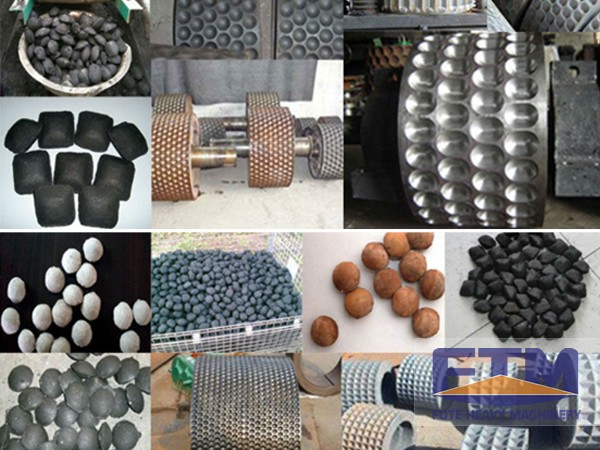 Features

---
Industrial Requiements:
1. Particle size should be 90-260 mesh
2. The material is not permitted in any metal object. Otherwise it will damage the roller surface.
3. Feeding must be enough. Speed-adjustable spiral conveyor is preferred. Observe feeding quantity to adjust new supply.
4. Before the feeding, the machine must operate with no load for couple of weeks. In case the pressure the ball machine ate too much, cause overload to the reducer and motor which can break the spherical pressure roller.
Structure of Briquetting Press Machine:
Briquetting press machine is composed of feeding part, conveying part and shaping part.
1. Feeding part is mainly to make feeding in certain quantity to ensure the material into the roller evenly.
2. Conveying part is mainly composed of engine, triangle strip, speed reducer, open gear and roller.
3. Shaping part refers to the engine part whose core is roll.
Parameter

---
Model
Roll diameter
(mm)
Roll width
(mm)
Total pressure
(t)
Main motor power
(kw)
Output
(t/h)
Weight
(t)
GY520-150
520
196
150
55
2.2-3.5
13
GY650-220
650
200
220
110
4-6.5
19.2
GY750-300
750
280
300
185
6-8.5
34
GY1000-350
1000
440
350
250
10-15
50.8
GY1000-450
1000
504
450
280
14-17
58.5
GY1000-500
1000
504
500
315
15-20
58.5
GYS1000-500
1000
600
500
280
17-21
56.5
GY1000-540
1000
900
540
185Kw×2
30-35
60
GY1200-800
1200
900
800
280Kw×2
40
110
GY1400-1000
1400
1000
1000
400Kw×2
50
156
SEND INQUIRY

---
Here you can submit any questions and we will get back to you as soon as possible. We will not disclose the information you submit to anyone, please rest assured.