Overview

---
Shaking table is also known as gravity shaking table or concentrator table. It is one of the major equipment for gravity concentration. It is widely applied into classify tungsten, tin, tantalum, niobium, gold and other rare metals and precious metals. Shaking table can be used for roughing, fine and sweep election, sorting coarse sand (2-0.5mm), fine sand (0.5-0.074mm), slime (-0.074) of different size fractions. It can also be used for sorting iron, manganese ore and coal. When dealing with tungsten, tin and other minerals, the effective recovery of particle size range is 2-0.22 mm.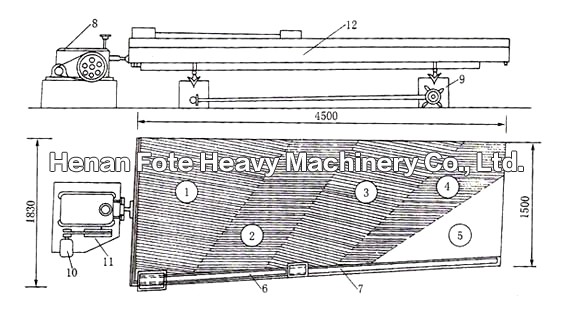 Features

---
1. Exquisite craftsmanship, reliable and stable operation.
2. Durable.
3. Long life, maintenance-free.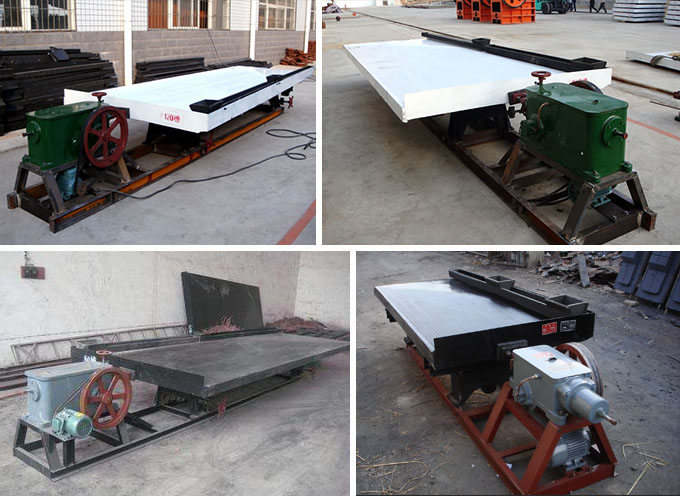 4. Unique motor overheating, temperature control automatic power-off protection device.
5. Noise-free.
6. Enrichment ratio is high, good sorting efficiency.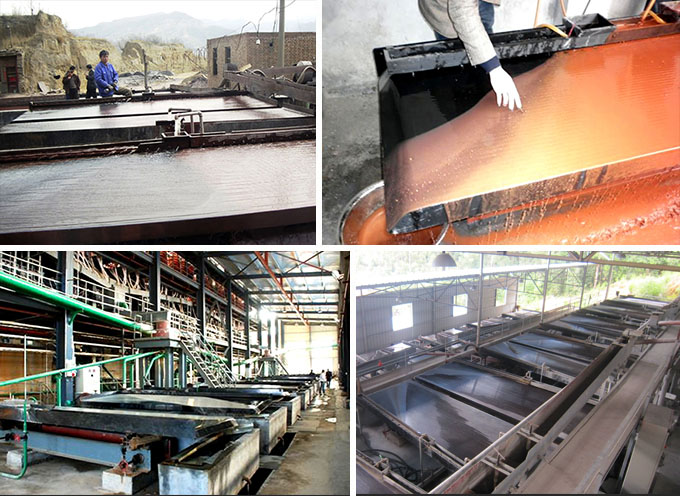 Fote is a famous gold ore shaker table supplier. The gold shaking table price is reasonable and the quality is guaranteed. Welcome to take a visit. We'll always at your sevice.
Parameter

---
Name
Grit
concentrator
table
Fine sand
concentrator
table
Sludge
concentrator
table
Bed surface
Dimensions
Length
(mm)
4450
4450
4450
Driving
part Width
(mm)
1855
1855
1855
Concentrate
part Width
(mm)
1546
1546
1546
Max.feeding
size(mm)
2
0.5
0.15
Feeding
amount
(t/d)
30-60
10-20
15-25
Feeding
thickness
(%)
25-30
20-25
15-25
Stroke
(mm)
16-22
11-16
8-16
Frequency
(f)
45-48
48-53
50-57
Bed surface
Water quantity
(t/d)
80-150
30-60
10-17
Bed surface
Horizontal
obliquity(°)
2.5-4.5
1.5-3.5
1-2
Bed surface
Portrait
obliquity(%)
1.4
0.92
----
Table board
corner(°)
32-42
40
42
Concentrating
area(㎡)
7.6
7.6
7.6
Bed surface
Length ratio
2.6
2.6
2.6
Shape of
side-bed
surface
Rectangle
Zigzag
Triangle
Motor
power(kw)
1.1
1.1
1.1
Transmission
device
Eccentricity Linkage
Other Products You May Need

---
SEND INQUIRY

---
Here you can submit any questions and we will get back to you as soon as possible. We will not disclose the information you submit to anyone, please rest assured.