Most Industrial Drying Machines are Similar
Kindly Reminder:
If you are interested in our products, Please get in contact with us
Although there are many types of industrial dryers or drying machines in the modern market, they are still quite similar with each other.
Our company has manufactured many different types of industrial dryers to complete the drying process of different materials. For example, the drum dryer is widely used in the mining industry to dry metal, non-metal, magnetic ore, gravity ore, floating ore, clay and coal slime etc. The river sand dryer with high drying efficiency is the ideal choice for drying the bulk materials such as river sand, yellow sand, sea sand and guava sand.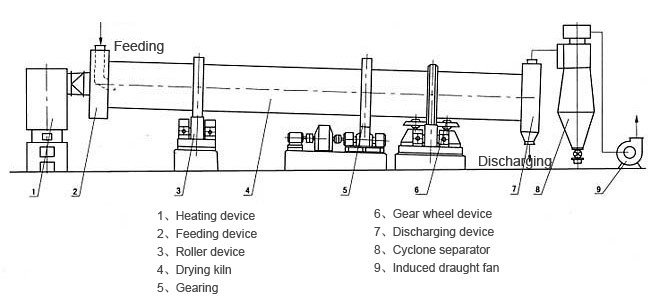 We usually adopt the lignite dryer to realize the drying effect of the lignite. The slag dryer is commonly used to dry slag, carbide slag, limestone, clay, river sand, quartz sand and granulating slag in the industries of construction material, metallurgy, ore beneficiation, chemical engineering and cement production.
However, most of the industrial dryers made by our company adopt the similar working principle as follows:
1.Wet materials enter the cylinder via the feeder and then are pushed back by the spiral copying plate;
2.As the dryer machine is placed inclined, materials flow to the back in the effect of gravity and rotation force;
3.Then materials are lifted by the material copying plate again and again and then are scattered down, forming a well-distributed material curtain in the cylinder and touching the hot air completely;
4.During the lifting and scattering process, moisture in the materials has been removed to realize the drying effect.
SEND INQUIRY

---
Here you can submit any questions and we will get back to you as soon as possible. We will not disclose the information you submit to anyone, please rest assured.